It is important to realize that going tiny means that you would probably be able to work much less while living and having fun more!  That's life changing in itself right?  Working significantly less could mean not having to work in corporate slavery for 8 hours a day for 5-6 days a week in addition to that 1 hour commute each way.  What will you do with so much spare time?  How about living in the moment and making those precious memories with your loved ones?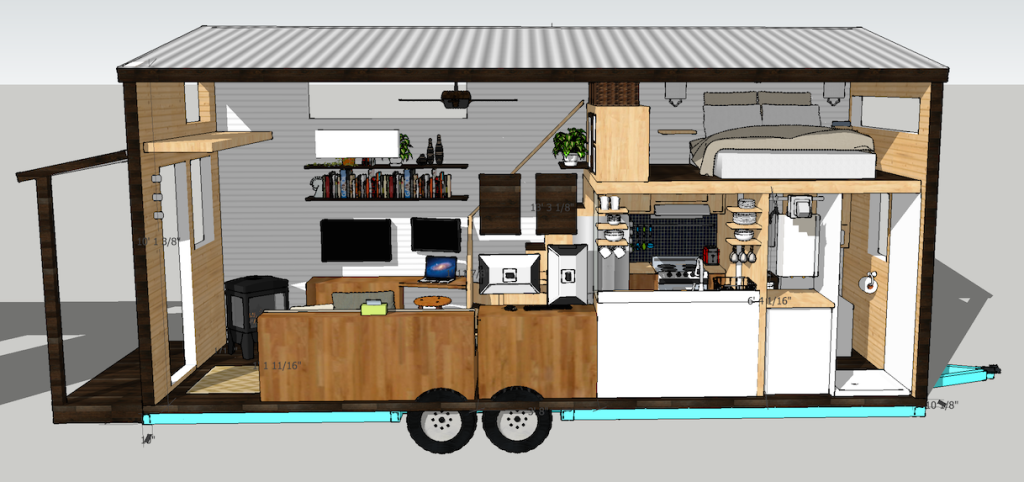 Perhaps you will need to have an extended stay-cation for the first few months, but the itchy feet syndrome that is in every human will soon begin to show itself after that first season.  As humans, we were meant to be moving, progressively dynamic, always changing, evolving our self-awareness and living life to its fullest.
Going Tiny means you can kick back, relax and truly experience life for all it is – the beauty in nature, the countless of cultures to explore in your travels, spending quality time with your loved ones and friends and ultimately touching other peoples' lives in the process.
Some Common Excuses, Misconceptions and Limited Beliefs for Going Tiny
"I need more room, I can never go tiny"
"I am 6 ft 3 how can I even fit in a tiny home?"
"Me and my wife cannot be in the same room yet alone in the same house for more than 1 hour at a time"
"I will get bored in such a cramp and small space"
"I don't want to rough it for the rest of my life"
"No pool table?  No sectional couch in the basement?  No man cave?"
"What about my two dogs?"
"How about my two toddlers and baby?"
"What if we need more than one bathroom?"
"What about the 1000 square feet per child in my family?"
"How about all that furniture, belongings, possessions and clothes I have accumulated?"
"What will my neighbours and friends think of me?"
"What if the home gets damaged or blown away in the windstorm?"
"I'm not an outdoorsy person, I like the comfort of my couch and 70″TV to give it up."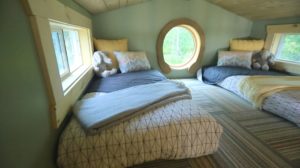 Here are the individual responses from Your Tiny Home for going tiny despite these limited beliefs.  Please be warned that these may contain some tongue and cheek humour, by no means is the following answers meant to offend anyone:
"I need more room, I can never go tiny"
Your Tiny Home answer
"come see and walk through one of our designed houses to get a feel for the space, 400 square feet sounds smaller than it really is in a Your Tiny Home build."
"I am 6 ft 3 how can I even fit in a tiny home?"
Your Tiny Home answer
"you can decide whether you want the 10ft ceilings in the kitchen, in your great living room or for your main floor bedroom – that's right a main floor bedroom is our unique selling feature"
"Me and my wife cannot be in the same room yet alone in the same house for more than 1 hour at a time"
Your Tiny Home answer
"no offense but maybe you need to rethink your relationship if you cannot tolerate each other for 1 whole hour in the day – tiny home probably wouldn't work for you in your current situation"
"I will get bored in such a cramp and small space"
Your Tiny Home answer
"from your current standpoint you may think you will get bored.  But life will have new meaning in a tiny home as you can now get outside to live, experience and travel this beautiful world instead of working in corporate slavery just to pay off the large 4000 square foot house that you hardly get to enjoy.  Less of the consumer culture, more of the experience culture!"
"I don't want to rough it for the rest of my life"
Your Tiny Home answer
"what makes you think you have to rough it?  You can build your home as basic and primitive as you want, need or not.  You can build those creature comforts and modern luxuries that you have come to expect – just in a smaller and sustainable footprint for your wallet and the environment."
"No pool table?  No sectional couch in the basement?  No man cave?"
Your Tiny Home answer
"well unless you like to play pool with just yourself, maybe you should go to the local arcade hall to play pool with your son, or meet your buddies at the bar for this social and gaming experience outside of the home"
"What about my two dogs?"
Your Tiny Home answer
"dogs actually prefer to be outside anyway, why not make an amazing 10 x 10 cedar deck that is covered and warm, multi-functional for your outdoor enjoyment and the dogs.  With the open railings around the deck so they can peek through would make their new home perfect for those dog days of snoozing in nature – at all other times they will be running happily in the backyard or green space you have surrounding you"
"How about my two toddlers and baby?"
Your Tiny Home answer
"design the house around your growing family so everyone has their own personal space to retreat to at night or when they need that quiet time alone – ask Your Tiny Home about smart designing bunk beds that provide privacy and individuality for each of your kids"
"What if we need more than one bathroom?"
Your Tiny Home answer
"if your family life is so fast that it has all 4 of you wanting to use the bathroom at the same time, well it's time to slow down and rethink your life so that you can go to the bathroom not out of desperation because you left it to the last minute having got too busy or didn't want to miss that goal in the NHL game on TV.  Instead you can listen to your body's needs and health so that you can restore the balance in the body, mind and spirit"
"What about the 1000 square feet per child in my family?"
Your Tiny Home answer
"if you want to keep working like a slave for the next 30 years of your life to pay the monthly mortgage on your 4000 square foot home, then please continue what you are doing.  This consumer culture that society promotes, is not the most fruitful or fun-loving lifestyle – just look at the number of depression and emotional breakdown victims who have literally been steamrolled by life, countless of heartbreaks and disappointments"
"How about all that furniture, belongings, possessions and clothes I have accumulated?"
Your Tiny Home answer
"move away from the consumer culture, detach yourself from these material possessions for owning them end up owning you.  Don't let these material possessions weigh you down from attaining your dreams in life.  Want to drive that $400,000 Ferrari?  How about you don't own it but buy the Groupon to experience this exotic car for a couple of hours costing you $400!"
"What will my neighbours and friends think of me?"
Your Tiny Home answer
"if what other people think of you is more important than doing what makes you happy – well then you have bigger issues to work on than going tiny.  It's your life after all, not their life – their judgements, stereotypes and prejudices will remain but remember they are not personal for they do not know the true you"
"What if the home gets damaged or blown away in the windstorm?"
Your Tiny Home answer
"home insurance works the same way so you can cover the financial cost of the home in the case of natural forces.  If it is completely trashed from that landslide, well then build another with more robust materials or move your location so its not prone to the elements"
"I'm not an outdoorsy person, I like the comfort of my couch and 70″ TV to give it up."
Your Tiny Home answer
"good luck being a couch potato being programmed what to think, believe and feel by that oversized mind controlling device called the TV for the next 30 years!  Your Tiny Home hopes that you have more reasons to get outside than to stay indoors for so long rather than to make those memories and experiences with your loved ones"